History
Subject Lead: Mrs D Laviolette
Link LAC Member: Mr R Webster
History Intent
At Bishopton Remarshall C of E Primary School, we aim to provide a high-quality history education that will help pupils gain a coherent knowledge and understanding of Britain's past and that of the wider world. We aim to inspire pupils' curiosity to know more about the past through engaging and purposeful topics. Our teaching aims to encourage pupils to ask perceptive questions, think critically, weigh evidence, sift arguments, and develop perspective and judgement. Through our history curriculum, we aim to help pupils understand the complexity of people's lives, the process of change, the diversity of societies and relationships between different groups, as well as their own identity and the challenges of their time. We want children to enjoy and love learning about history at Bishopton Remarshall. We want history to come alive not just through experiences in the classroom, but also with the use of fieldwork and educational visits.
Implementation
History is taught through a topic based approach linking together other subject areas. Strong links are made with the English curriculum where by texts are chosen that link with the area of study. We aim to ensure in depth contextual learning in order to widen pupil's historical understanding. Each topic leads with an enquiry based question to engage pupil's curiosity. Teachers plan a sequence of lessons using national curriculum requirements and progression documents to ensure full coverage of the objectives throughout both Key Stages. By the end of Year 6, children will have a chronological understanding of British and world history from the Stone Age to present day. The local area is also fully utilised to achieve the desired outcomes, with opportunities for learning outside the classroom embedded in practice. Outcomes of work are regularly monitored to ensure that they reflect a sound understanding of the key knowledge, skills and understanding of the history curriculum.
The Early Years Foundation Stage (EYFS) follows the 'Development Matters in the EYFS' guidance which aims for all children in reception to have an 'Understanding of the World; people and communities, the world and technology' by the end of the academic year.
Impact
By the time children at Bishopton Redmarshall leave our school they should have developed:
A secure knowledge and understanding of people, events and contexts from the historical periods covered.
An understanding of how people's lives have shaped this nation and how Britain has influenced and been influenced by the wider world.
The ability to think critically about history and communicate confidently in styles appropriate to a range of audiences.
The ability to consistently support, evaluate and challenge their own and others' views using detailed, appropriate and accurate historical evidence derived from a range of sources.
The ability to think, reflect, debate, discuss and evaluate the past, forming and refining questions and lines of enquiry.
A respect for historical evidence and the ability to make robust and critical use of it to support their explanations and judgements.
A passion for history and an enthusiastic engagement in learning, which develops their sense of curiosity and understanding of the past.
Long Term Overviews
Cycle A
Cycle B
Progression Document for History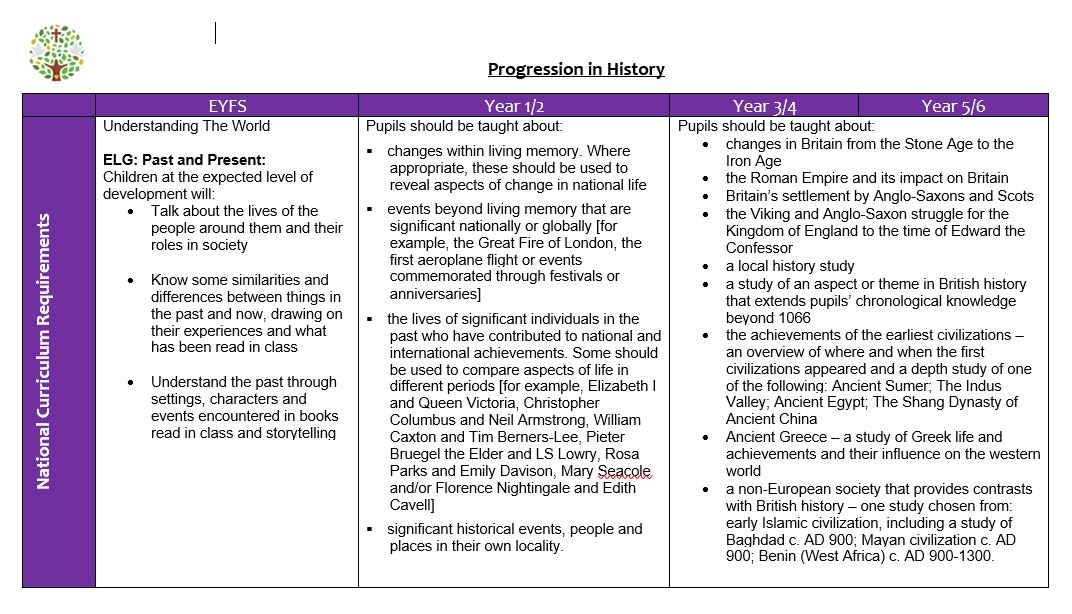 History at Bishopton!
Class 4 Mayan Civilization
History Trips
Class visit Beamish