Class 3 - May 2020
Home Learning Week 7
18th-22nd May 2020
Friday 22nd May 2020
Good Morning Everyone,
It's hard to think we've done a full half-term of learning from home together. You have all been amazing. Fantastic work and photos sent in. Thank you children and thank you parents most definitely a team effort.
So today, then a week off which I hope everyone will enjoy before we embark on a gradual step by step return towards coming back to school.
I think we should start this last day of the half-term with Joe. He's amazing keeping us all fit and healthy.
Maths today is some challenges. I think you'll enjoy these.
Year 3 Year 4
Have you got what it takes to become a GUINNESS WORLD RECORDS® title holder?
Click on the image to find out how you can have a go through Times Tables Rock Stars
English
Science
These video are from Explorify. I want you to watch them and ask lots of questions. See if you can work out what is happening and why????
By all means set them up yourself if you'd like so you can see what's happening first hand. Use your observation skills!!
R.E
Tomorrow is an important celebration day for Muslims; Eid-al-Fitr. It marks the end of Ramadan a period of fasting and prayer. Learn about Eid in the Powerpoint below. Maybe you'd then like to have a go at some Eid recipes or complete some Eid colouring.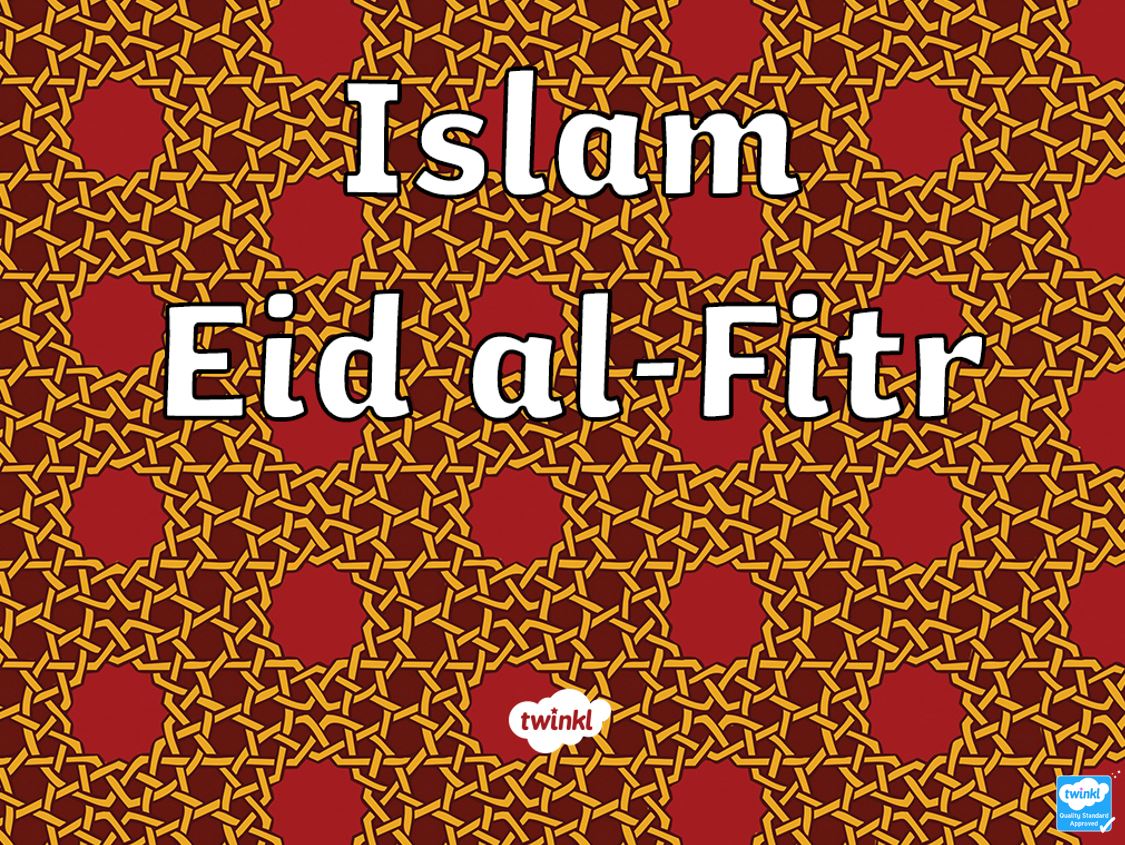 I'll leave you today with a couple of cake photos for the dragon, from yesterday, these really do look delicious. The rest of the photos from this week will be uploaded to the gallery. We've had technical difficulties this week with photos. Our webapge had too much content but hopefully it is now resolved.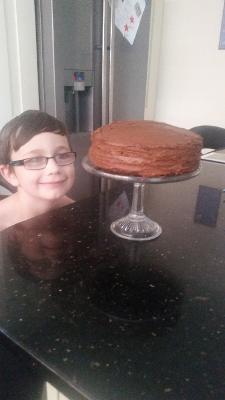 Take care everyone, keep safe and I'll be back in a week's time.
Mrs F.x
P.S. don't forget today is the last day for the nature photography challenge.
Thursday 21st May 2020
Good Morning Everyone,
What a beautiful, warm day it was yesterday. I wonder if we are in for more sunshine today.
Well we'll start with Joe before it gets too warm.
Maths
Year 3 Year 4
As our work on 'The Wyrmstooth Crown' comes to a close.

Do you think you could persuade a dragon with some delicious lemon drizzle cake? Here's a recipe if you fancy having a go.
I'm looking forward to seeing your results. Let me know if satisfies the dragon's taste buds.
A French Quiz for your final french lesson for this half term. Bonne chance.
A little more history to finish today.
Thank you children for all the wondeful photos and work you have sent me this week. Unfortunately, I am still having problems uploading to the webpage at the moment. My home internet is slower than clockwork. I'll keep trying. Hopefully I'll get them on Friday's page.
Wednesday 20th May 2020
Hello Children,
Let's get straight into our morning with Joe's PE, that should get us ready to go with our Maths.
Maths
Year 3 Year 4
SPaG
Some more work linked to the Wyrmstooth Crown.
Today we are going to start a History unit of work on the Tudors; with their famous King Henry VIII
That's all for today folks. It's going to be very sunny and warm today, enjoy some outside time. Be careful not to get sunburned though. I'm having problems with my internet this morning so I'm unable to upload your most recent photos. Watch this space, I'll have another go later.
Have a good day.
Mrs Fielding x
Tuesday 19th May 2020
Good morning Everyone,
We've had some great pictures sent in today, which I have added to the gallery. Here are a couple.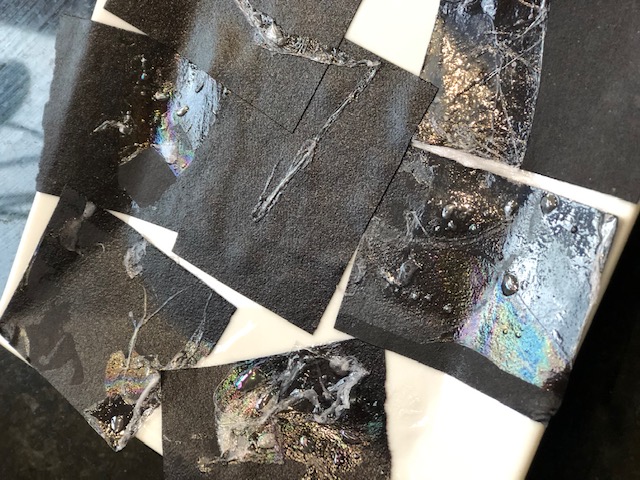 Arun had a go at Friday's Science. Great job.
Keeping the word fun in mind for this week. Can you keep up with Operation Ouch?
Keeping up with the news I saw this and thought it was rather fun.
Watch the video and then decide what those clever little penguins are thinking.
Click on the picture below and use your IT skills to insert speech/thought bubbles. (I'm looking forward to seeing these)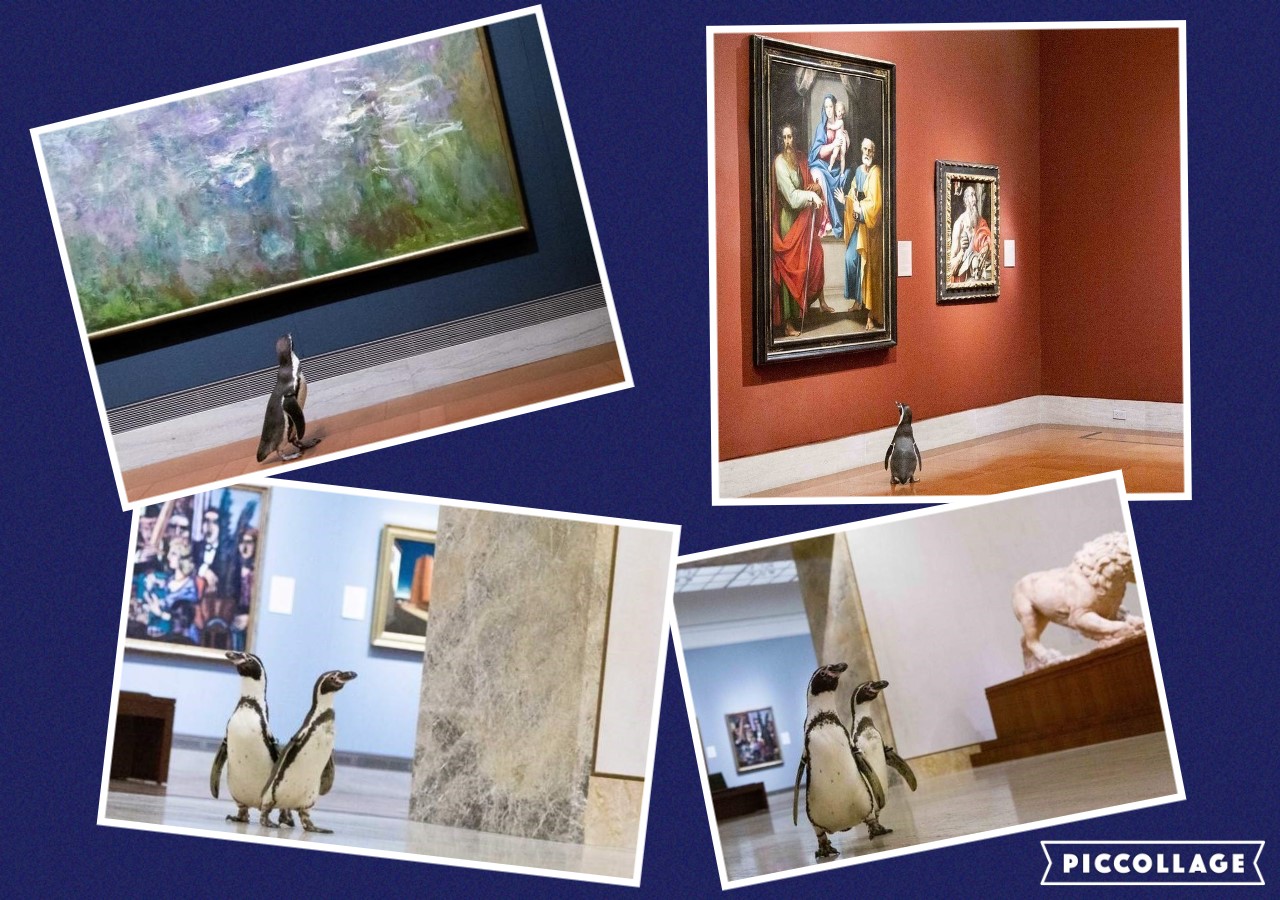 Ok, let's get a little more serious. Here's your Maths and English.
Year 3 Year 4
Lewis enjoyed yesterday's wordsearch.
Here's some more activities linked to 'The Wyrmstooth Crown'. Punctuating direct speech. (Maybe you could also have a go at putting your Penguin's speech into punctuated sentences)
Here's a reminder how to punctuate speech correctly.
If you liked the wordsearch, now try the crossword.
Finally, I have something special to share with you. My nature photos.
Mr Fielding has been training this little guy for weeks now and I couldn't believe it when he actually took the meal worm from my hand yesterday.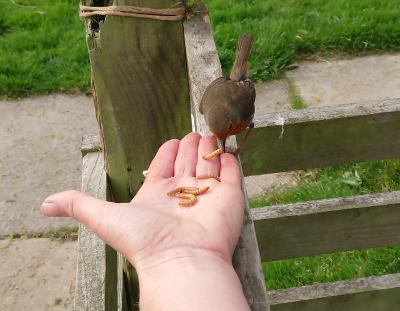 Have a good day and don't forget the nature photo challenge!
Mrs F.x
P.S. You can see more of the penguins at home on their webcam.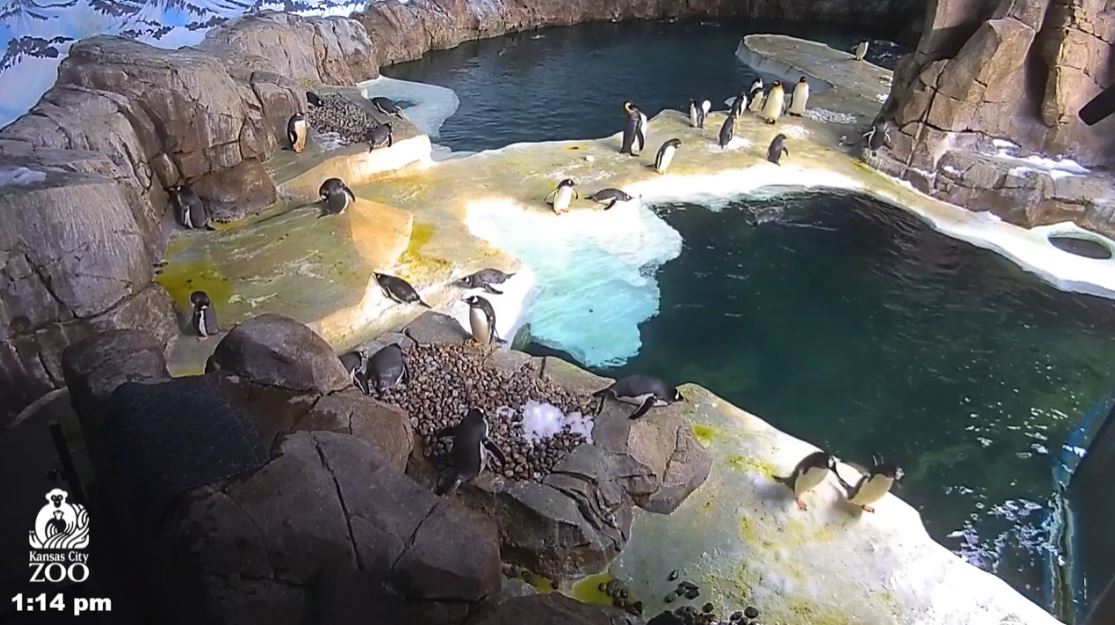 Monday 18th May 2020
Good morning Children,
Welcome to our last week of home learning before half term; so we'd better have some fun with our learning this week.
We'll start our week with an eco message from Sir David Attenborough & the Supermovers.
Here we go wake up all you Supermovers!
Now for our English. Hopefully, you'll all have had a go at reading 'The Wyrmtooth Crown.'
Can you sequence the story and add time adverbials to link your sentences together to summarise the story?
Try the word search too.
Maths
This week, we are going to continue our units of work from the Oak Academy
Year 3
Year 4
Geography
Let's see if you know/ can remember about Latitude and Longitude and the names of the invisible lines around the Earth.
PSCHE
This week is Mental Health Awareness Week # KindnessMatters
Kindness does matter and I wondered if we could each do a little act of kindness each day. Here are some ideas below.
Smile at someone
Wash the dishes/load the dishwasher
Tell your parents how much you appreciate them
Read a story to your brother/sister
Keep your room tidy
Take the dog for a walk
What other things can you think of to be kind to your family.
Finally today, if you've not already sent some in, remember about the Nature Photo Challenge which is running until the end of this week. You have the chance of winning a fantastic I spy book. ( some super photos so far).
Have a great day.
Home Learning Week 6
11th - 15th May 2020
Friday 15th May 2020
Good Morning Children,
The last morning of this school week. A busy day ahead before your well deserved weekend break.
Let's have another go at the Dangermouse Supermovers - Just for Fun!
Here's the Maths and English.
Year 3
Year 4
To finish the week we can learn a little music.
This is a lesson about pulse. You will clap the pulse to lots of different pieces of music from a variety of genres and also learn some songs!
The only thing left for this week is to remind you, if you haven't already, to get your nature photos sent in.
Have a great weekend Boys and Girls and I'll be back with you on Monday.
Keep safe.
Mrs F.x
Thursday 14th May 2020
Good Morning Everyone,
The sun is back out shining today although it is still a little cold. Wrap up warm if you are heading outside to take your nature photos. Some lovely ones have been coming in.
We'll start our day again with Joe.
Now let's continue with our lessons from the Oak Academy
Year 3
Year 4
Here's our weekly French lesson.
Thursday is the day that we clap for the NHS. Many of us have rainbows in our homes to show our appreciation for all the people helping us fight the virus.
Lucie had a Rainbow day yesterday, here's what she did.
(Thank you for sharing this with us Lucie)
I thought we might all like to try a little Science/Art connected with rainbows. Maybe have a go at making this Rainbow paper. You could cut the pieces into Hearts, letters etc once they are dry. (as always take some photos - I love to see your results!)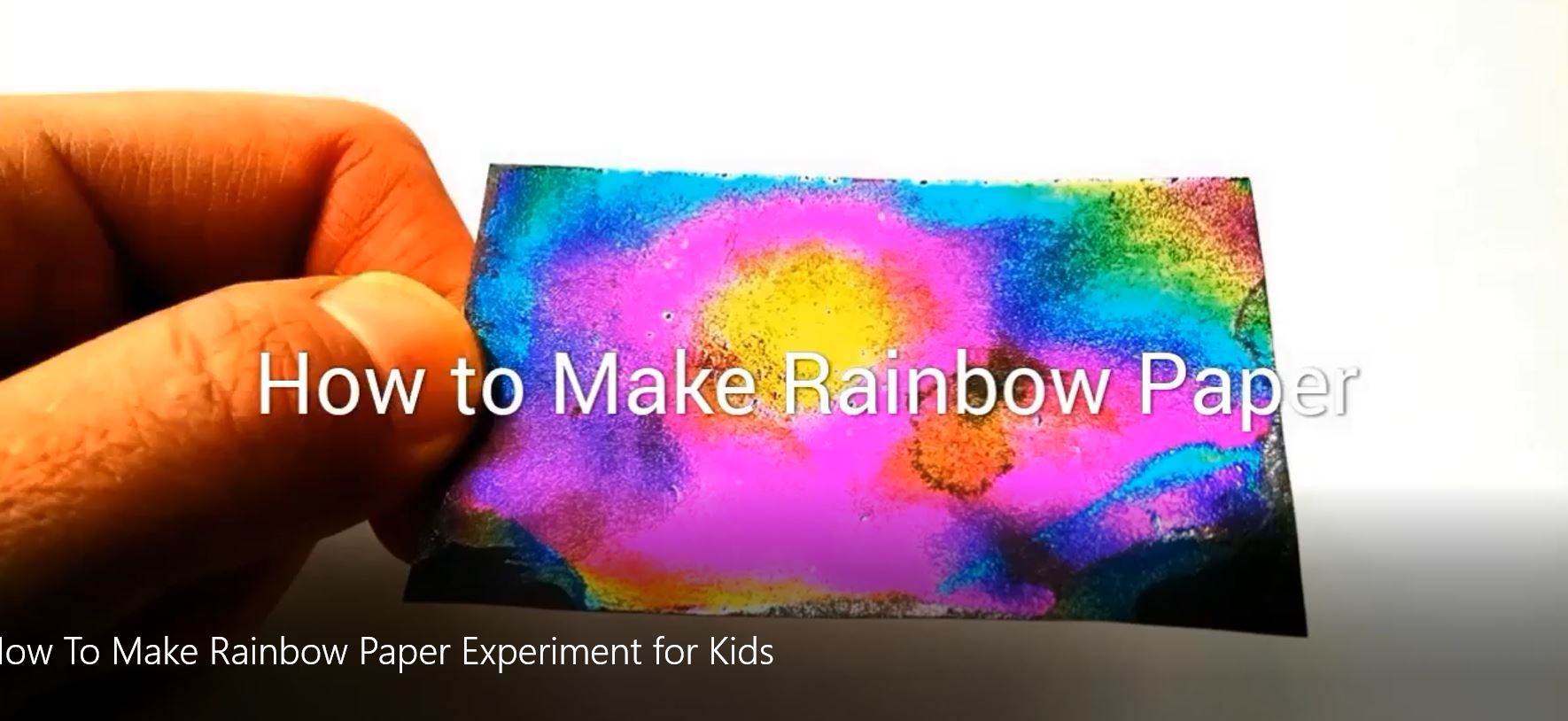 Check out the science behind your rainbow paper (Click below)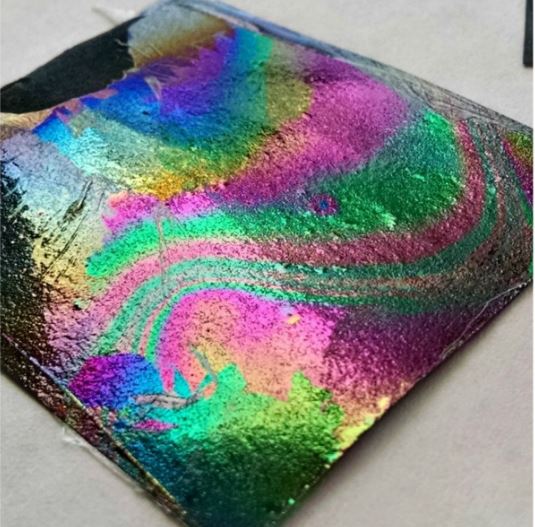 Have a multi-coloured day Everyone.
Wednesday 13th May 2020
Hello Children,
We really need to start today with a catch up of what everyone has been up to. So much great learning and fun things happening at home. It's just fantastic!
V.E day
Lucie and her family commemorated with lots of activities.
Tilly and Bella also had fun on VE day; baking, a family BBQ and camping out. I love your little stripey friend, girls.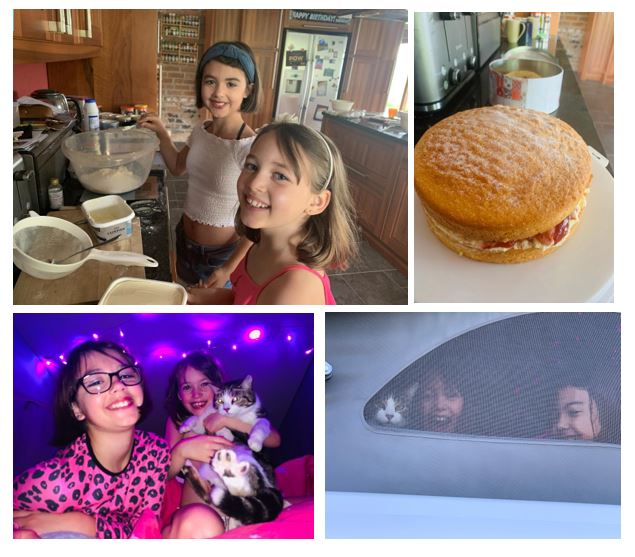 Tilly has also been learning about Russia and Austria; then teaching her family and testing their knowledge.
Maya has been working in her laboratory exploring chromatography with the help of Aneesha, Marvin and Milo.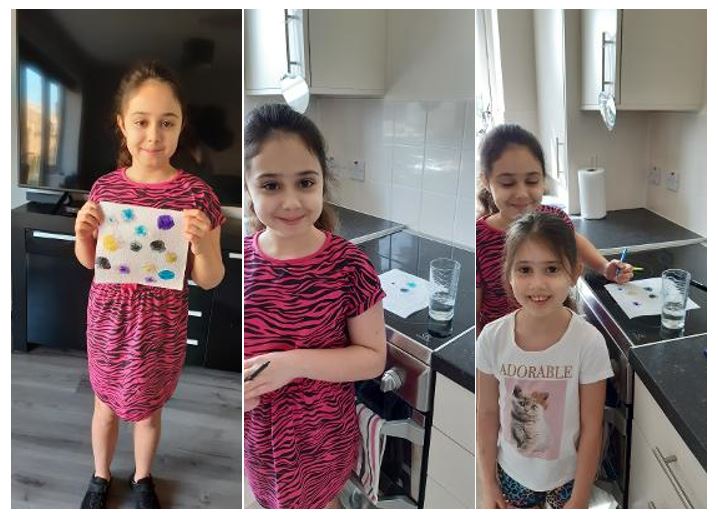 Maya and her dog have been doing lots of reading too. (Best Friends!)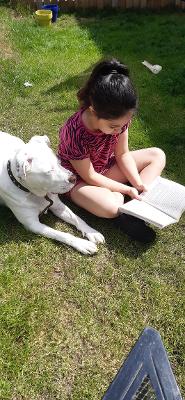 Well we are not just leaving it to the girls. Sebastian has entered another Cressida Cowell competition.
This work is just fabulous. He has designed his own magical creature and described it in detail. Well done Sebastian!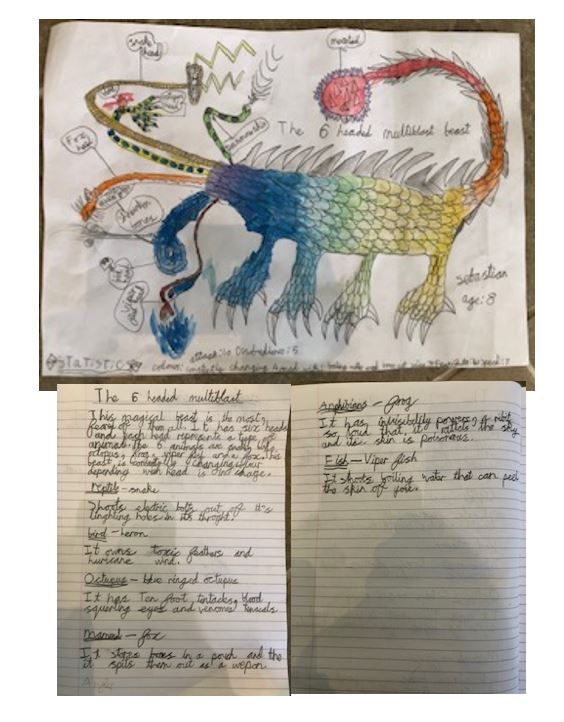 Not only is Sebastian a budding future author but he is also a keen Mathematician. Mrs Bellis is very proud of you. Here he is using his Lego to explore whole part models.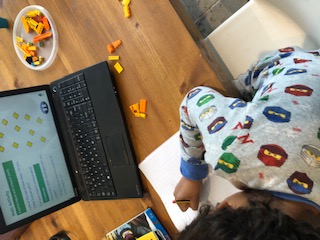 We've lots of positive feedback from the Oak Academy Lessons (especially the Maths). So after PE with Joe we'll continue with these today. There's some Science today too. Have a go at either or both of these lessons.
Year 3
Year 4
Science
Enjoy your day children.
Tuesday 12th May 2020
Good Morning Children,
Let's start our morning with Joe.
How did you get on yesterday with the Oak Academy lessons?
Here are the next Maths and English Lessons for you.
Year 3
Finally today, let's think about other people less fortunate than ourselves.
This week is Christian Aid week. Christian Aid is a UK charity that works in 37 countries helping people, regardless of religion or race. Their aim is to eradicate poverty.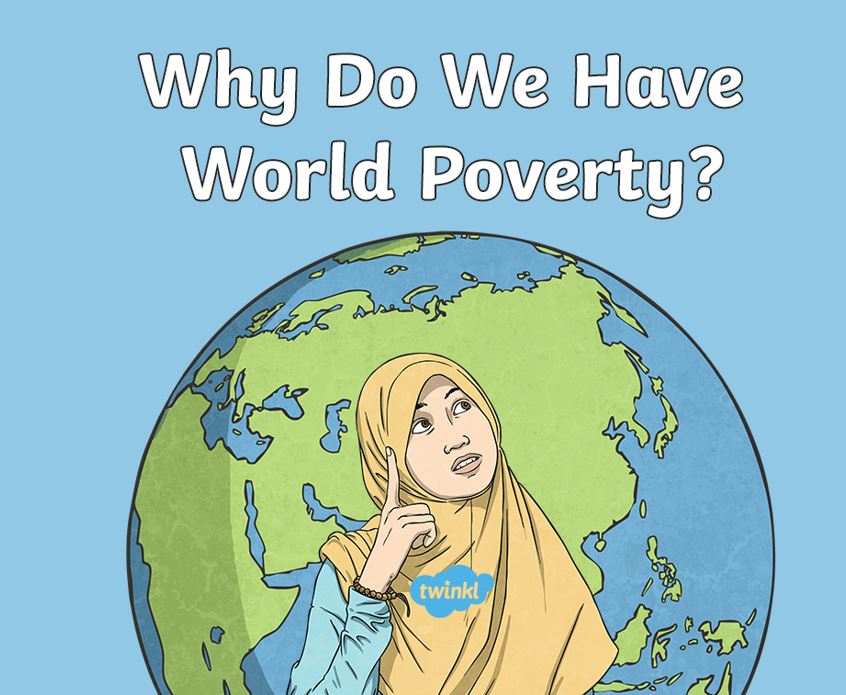 Have a busy day everyone.
Monday 11th May 2020
Good Morning Children,
I hope you've all enjoyed the long weekend. Such a shame the weather turned so cold yesterday. How was VE day?
We probably need to Wake and Shake this Monday morning.
This week Children, we are going to have a go at the government's Oak academy. Please let me know how you get on with the lessons and what you think of them. They are in individual year groups so there is separate work for Year 3 and Year 4.
Year 3
Year 4
Today we are starting our 3rd Bishopton Challenge.
The May Flower Moon photography Challenge.
Click on the May Flower Moon photo below to go to the Science page for full instructions.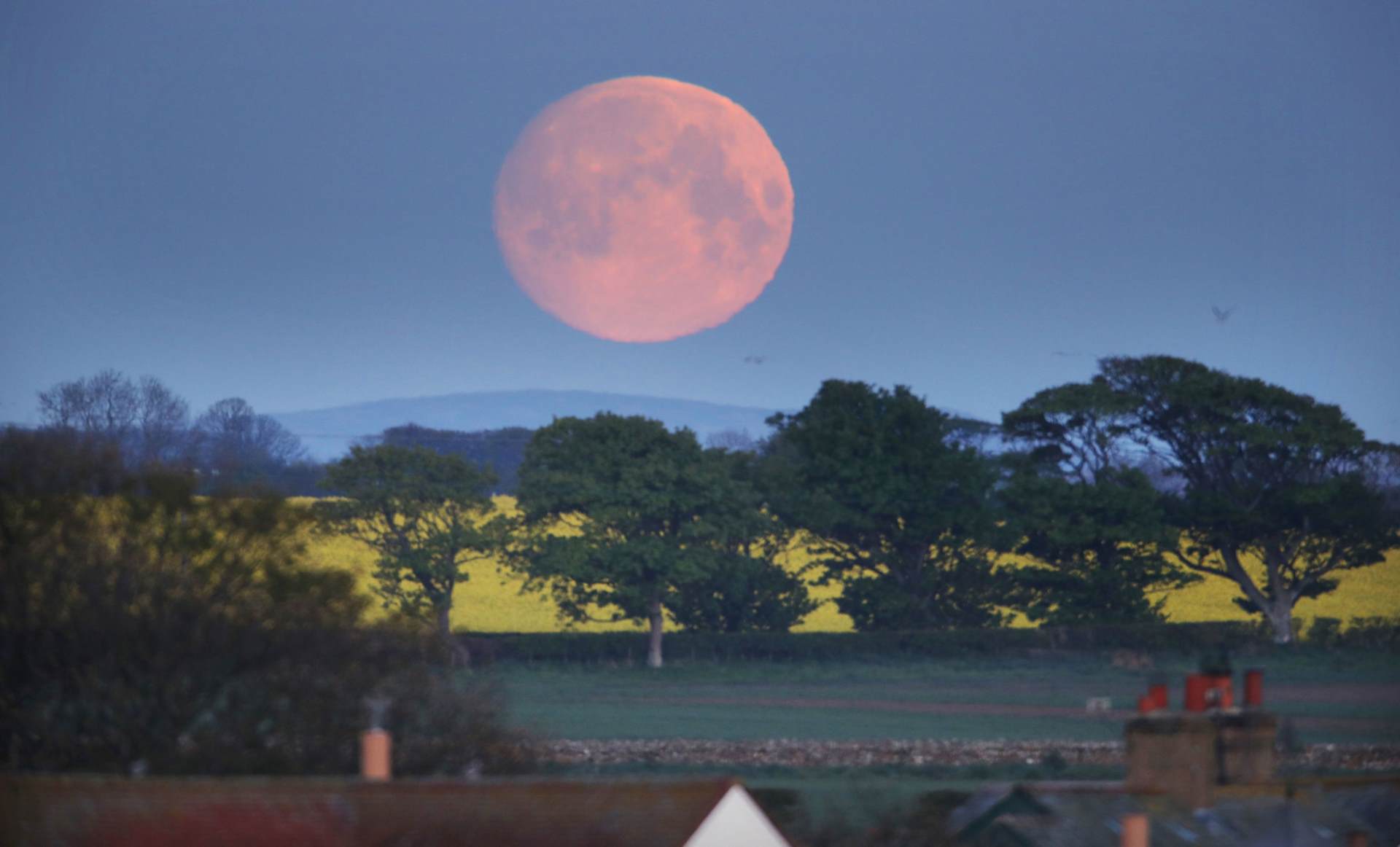 Have a good day Children.
Home Learning Week 5 4th-8th May 2020

Friday 8th May 2020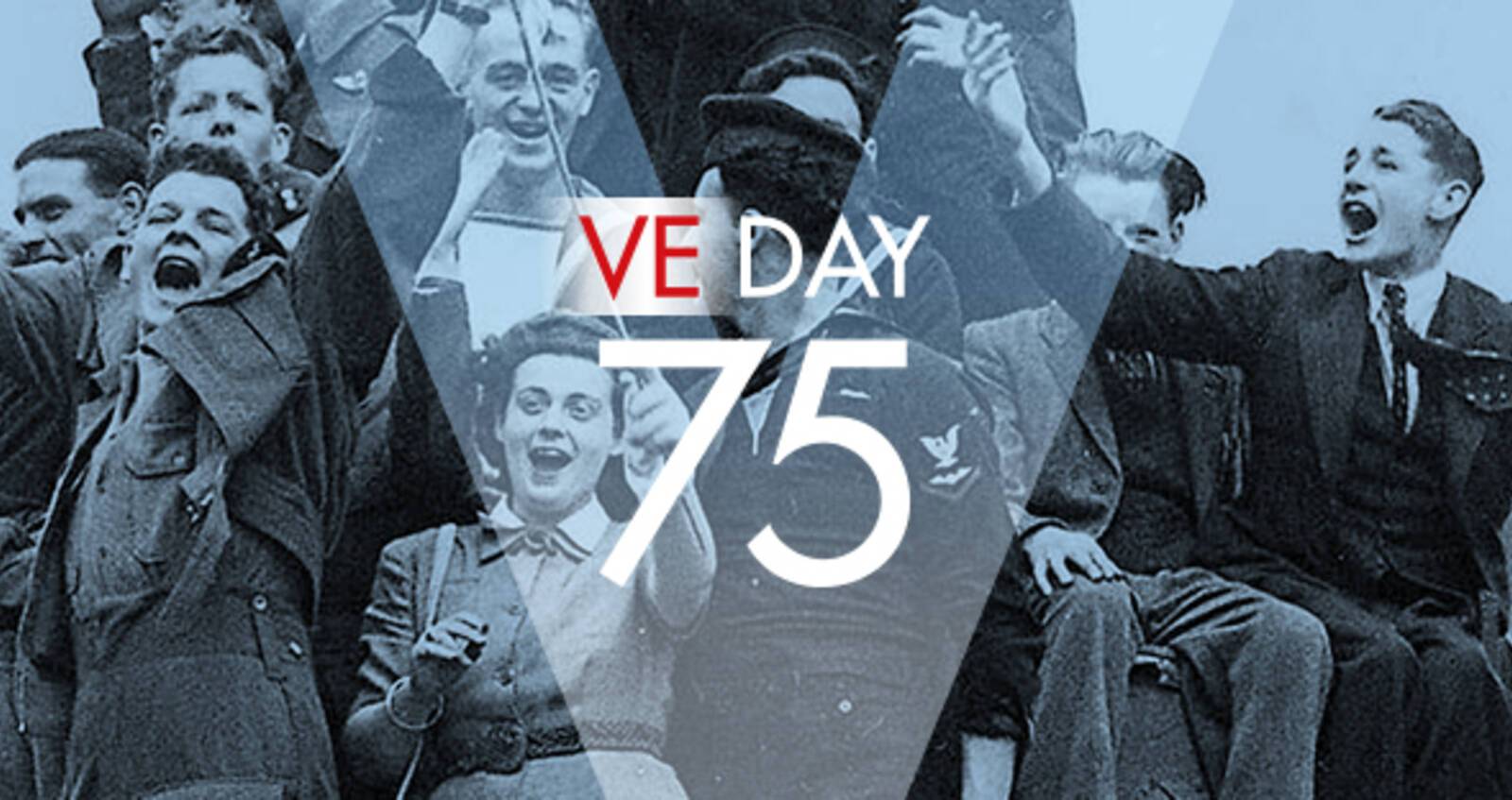 Good Morning Children,
Today, is a very special day. It is the 75th anniversary of V.E. day. It is 75 years ago that World War II came to an end in Europe. Today, is a National Bank Holiday in the United Kingdom. Today the people of Britain will be celebrating the end of the war again. We will also be remembering all of the people who gave their lives so our lives can be lived with liberty and freedom.
Huge celebrations were planned but as with everything at the moment because of the disease that has spread across the world we must stay safe at home. However, we can still celebrate with our families at home.
Here is some information about VE day and a few activities you may like to do through out the day.
PLEASE REMEMBER THERE IS A 2 minute SILENCE at 11 am.
Think carefully about all those men and women who gave their lives.
"TO THOSE WHO GAVE SO MUCH, WE THANK YOU,"
Here is an original clip of how people celebrated VE day in the North East.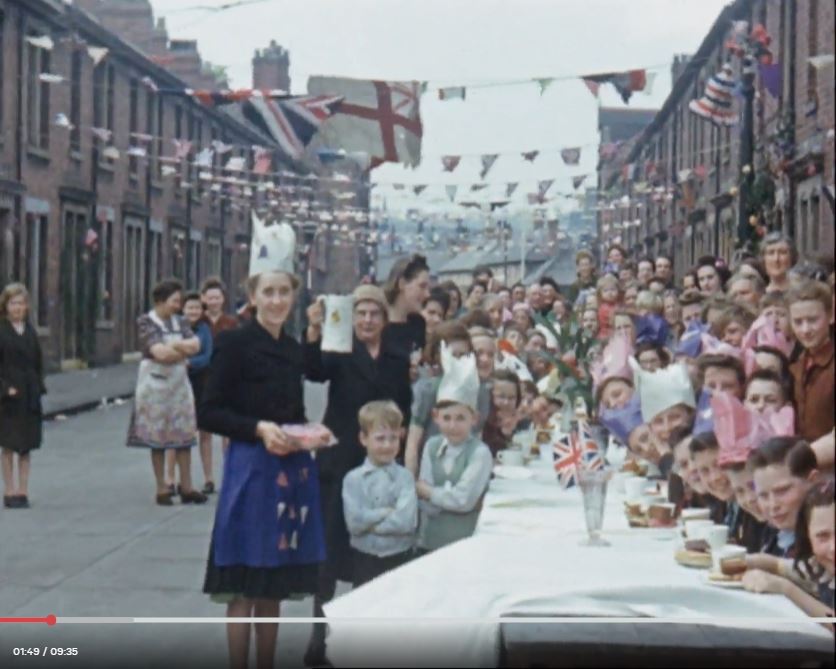 Maybe you could create your own version of a street party at home to celebrate today.
Here are some activities
Music became very popular during the Second World War.
Singers would go out and sing to the troops.
Why not have a go at learning a World War 2 song.
This is probably the most famous song of the war.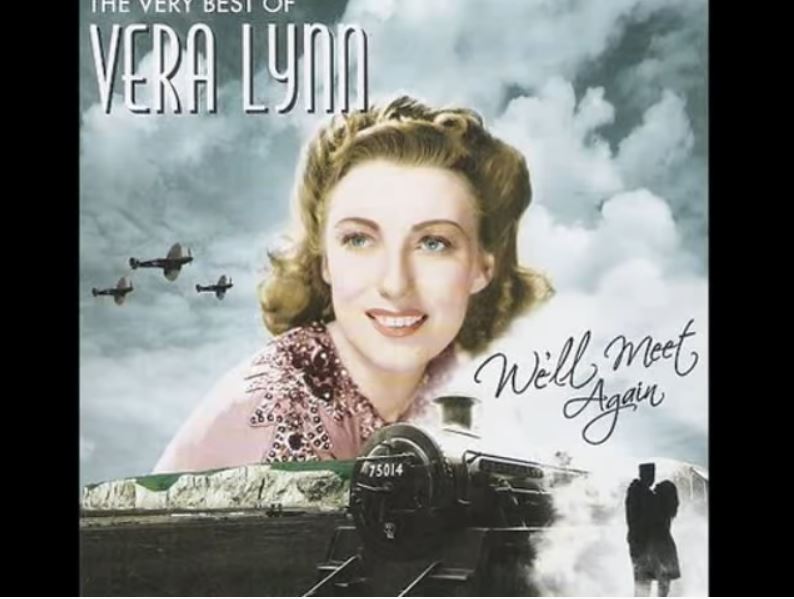 On VE day, the Prime Minister Winston Churchill made a speech acknowledging the end of the war in Europe. This speech will be broadcast again today on the BBC at 3pm.
If you are still awake tonight at 9pm the Queen will be making a speech to the nation as well.
Enjoy your VE day celebrations children - send me your photos.
Mrs F.x
Thursday 7th May 2020
Good Morning Everyone,
Here are the promised photos. Check out our gallery it's a delight.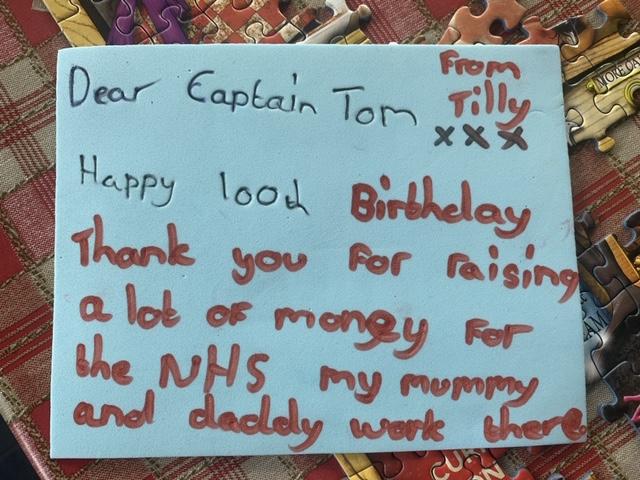 Tilly's birthday message to Captain Tom & a fantastic Minnie Mouse
Tilly's also been birdwatching. Tilly did you see or hear the Great Tit tweeting "teacher -teacher"?
Ted has been making his own mini bug house. What a brilliant idea. Great drawings too.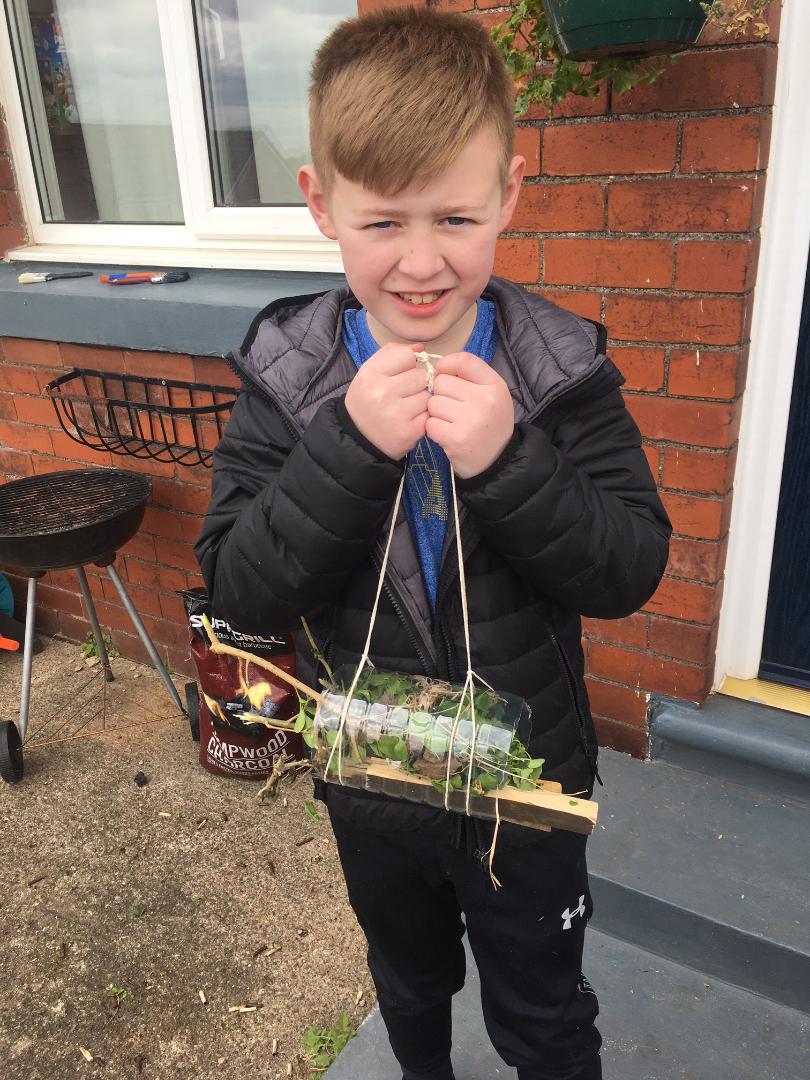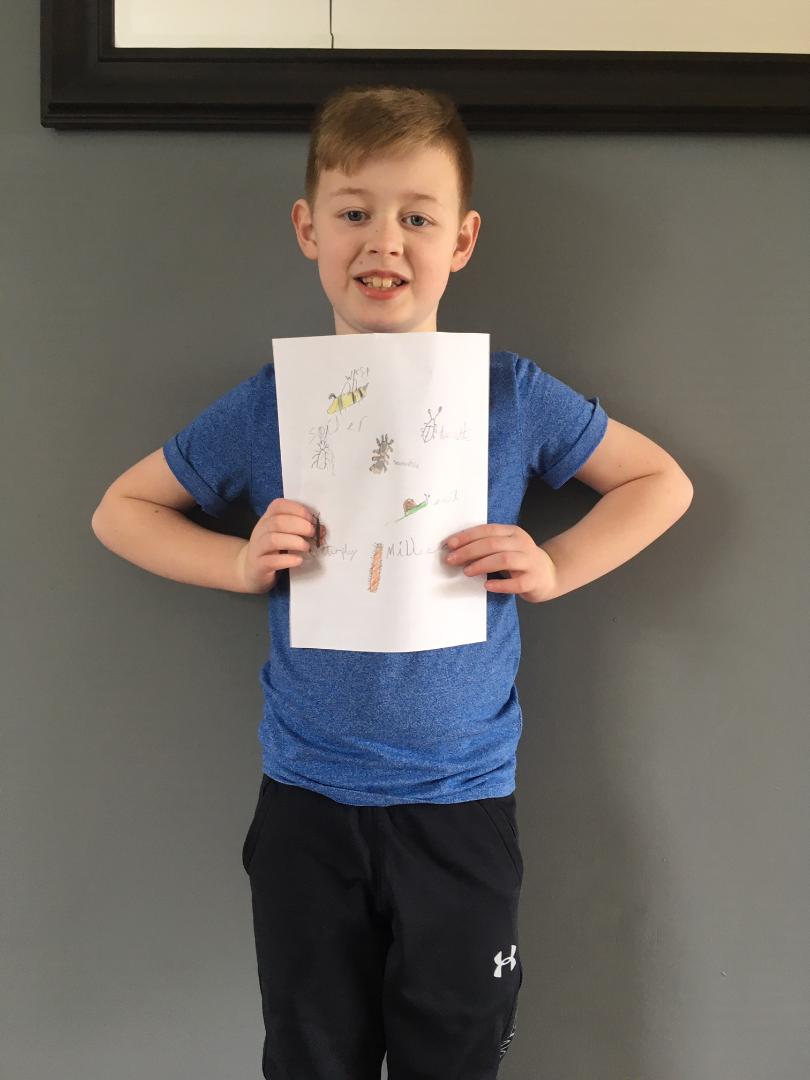 Quentin has sent his lockdown picture art of everything he's been up to.
And Lucie never lets us down with her enthusiasm for everything. She has made some fruit & vegetable artwork and some delicious pizza which she delivered to her Grandad. Well Done Lucie!
So what have we got for you today?
Let's start with some PE with Joe (and Rosie)
How are you getting on with the 5 minute maths ? Here's another one.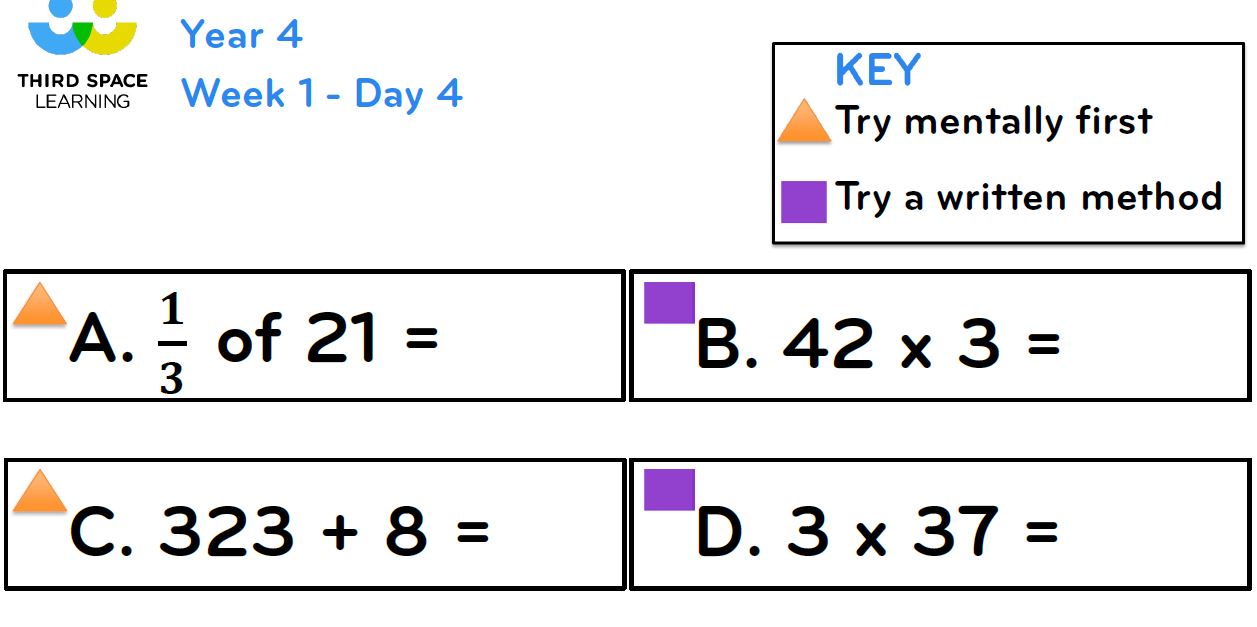 I do feel we are becoming friends with Marvin and Milo this week. Here is another little science trick for you. A colourful one today.
And finally, our French for this week. Thank you Mr Tinjod.
That's all folks!
It's another sunny day so get outside and run around again in the glorious sunshine ( but don't get burned).
Stay safe.
Wednesday 6th May 2020
Oh my goodness, what a lot of fantastic photos I've received this morning of all the excellent activities you have been keeping busy with. Well done everyone and well done and thank you to all the Mums, Dads and Carers who are helping to keep you all working hard.
(The internet at my house is awful and it's not playing ball at the moment. I'm going to need to try and upload your photos again later - sorry everyone).
It's a lovely sunny morning. Are we ready to Wake and Shake? Are we ready to Chu Chu Wa?
Some Maths.
Reading is so important in all our learning, but it is also a place to escape to. I hope you are all managing to read a little everyday still. If you click on the picture it will reveal a story. Try to read it by next Wednesday as I will put some English connected to it on our page next week. Remember you can share read with your grown ups. Enjoy!
And a another visit to Marvin and Milo
After all that hard work, you definitely need some fresh air. If you can, get outside for a runaround.
Have a good day children
Tuesday 5th May 2020
Good Morning Everyone,
Look at Lewis's Brilliant drawing of Stitch.
I think today we'll definitely stick with the animation theme.
Try this fun Dangermouse Supermovers workout to wake you up and get you moving.
Ready for some Maths? Here's another set of 5 minute problems. Remember use the key. Have a go mentally first if it shows that. Use your number bonds. For the Year 4's remember half of a half is a quarter so to find a quarter you can half the number then half it again.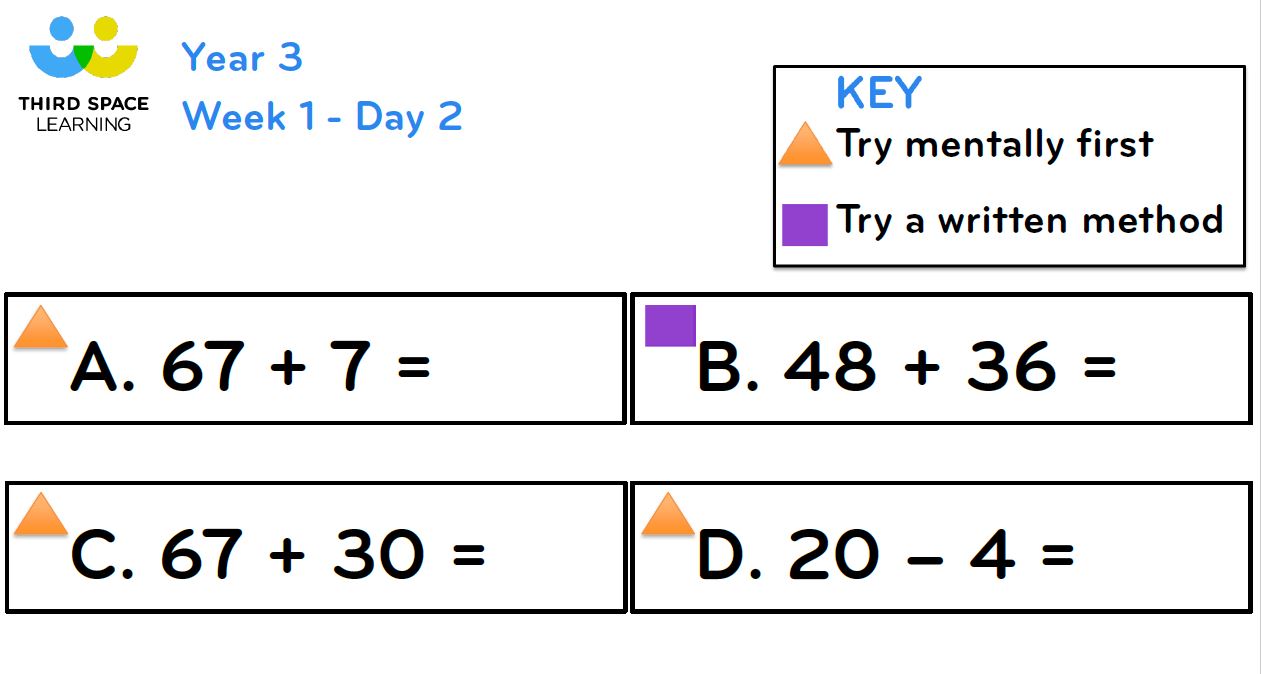 Now for some English
Let's see what we can remember about pronouns.
Pronouns can replace the noun representing a person, place or thing so the writing does not become boring; through over repeating the same noun. They can be tricky though! You need to use the correct pronoun as Daffy Duck finds out in the clip below and you also need to be careful that the reader knows which person, place or thing the pronoun is referring to.
Now see if you can improve these paragraphs by using pronouns correctly. Not too few and not too many; just the right number.
Everyone seemed to enjoy Marvin and Milo yesterday. Here is Lucy wetting her big sister with the water squirter.
Another, Marvin and Milo to try.
And finally, I must share these with you. These are Quentin's aquabead pictures. They're great, I'm lovin' the "Star Wars" Space theme! Well Done Quentin.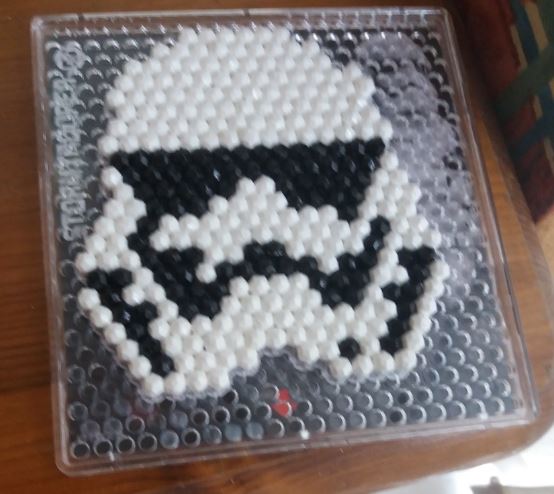 Monday 4th May 2020
Good Morning Children,
Welcome back to another brand new week. I've got lots to keep you busy again this week.
Maybe we should start with some Wake and Shake.
Here's some Maths to get you thinking.
There's a Year 3 and a Year 4. Do either - Do both!
Follow the key to see if you should do it mentally or using a written method.
Click on the picture to reveal the answers.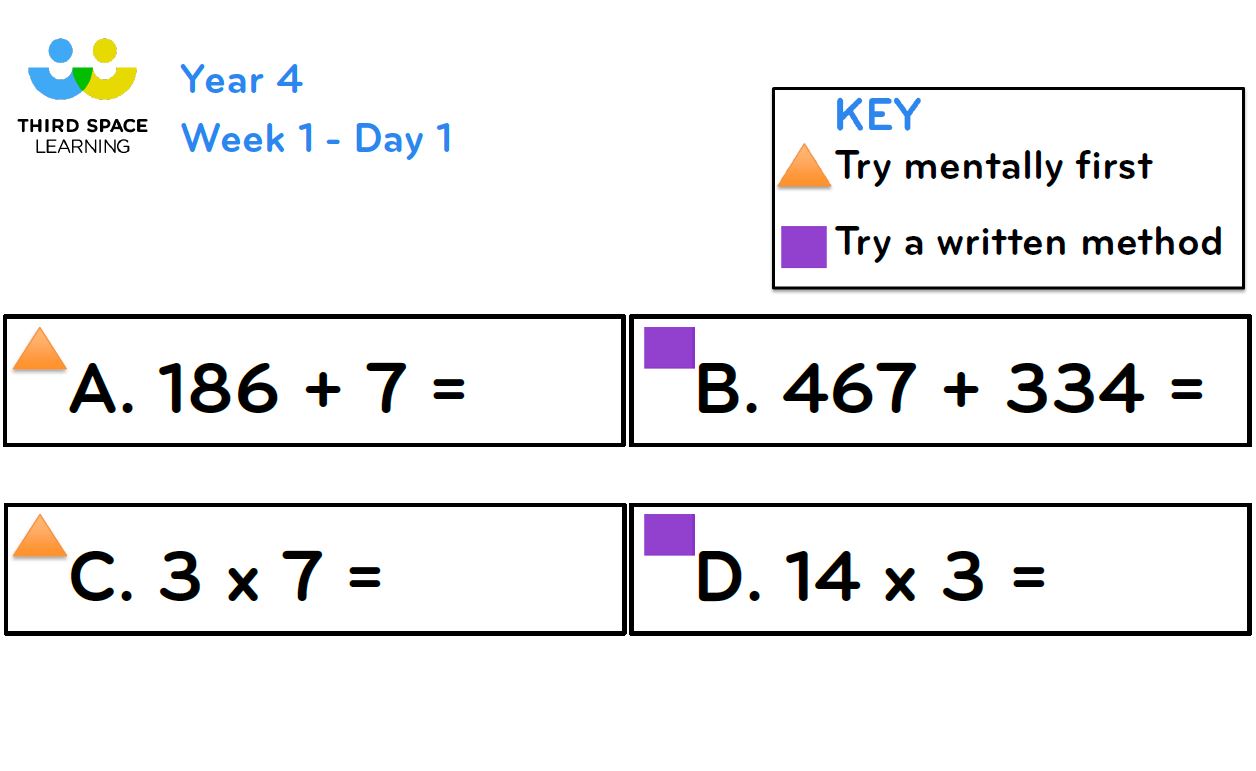 Well everyday's a Science day. Let's try some fun with Marvin and Milo from the Institute of Physics. (click on picture for a larger version).
Who will you catch out with this? Let me know how you get on.
Are we warmed up enough now, to test out our drawing skills?
We had some amazing dragon drawings the other week but how are you at Disney?
Click on the picture to link to youtube, to learn how to draw disney characters. Looking forward to seeing these.
Have a good everyone.
Home Learning Week 4 27th April-1st May 2020
Friday 1st May 2020
Good Morning Boys and Girls,
So here we are in another new month and at the end of another exciting week of home learning. You are all doing amazing. There has been some fabulous photos sent into school this week and I will catch up putting them on the website today (hopefully).
The unfortunate thing today for Mrs Fielding is at the moment she has a powercut!! So not even a cup of coffee for me to wake up with. My battery is running low on both my computer and ipad so I will be as quick as I can putting our learning on for today. Apologies, if there's a little less than normal. I'll save as I go and wish you a happy weekend now, in case my laptop gives up.
Friday morning is yoga morning. It should get us lovely and chilled out for the day ahead.
Now I know we are all big David Walliams fans so I hope you will love this.
A theatre production of 'The Midnight Gang' streamed free online.
Here are some more Maths Challenges to keep your minds ticking over.

CONGRATULATIONS TO CLASS 4 FOR WINNING THE CONTEST.
HUGE WELL DONE TO
DELIA CLASS 1 1ST
BELLA CLASS 4 2ND
LILLY C CLASS 4 3RD
Well I still have no electricity but I do have some battery left so let's see if we can celebrate the wonderful things you have all been doing.
Maya has been so busy. What a lot of hard work. Well done you really are a superstar!!
From superstar to super scientist, Ted has been investigating changing state of solids and liquids. Well done Ted!!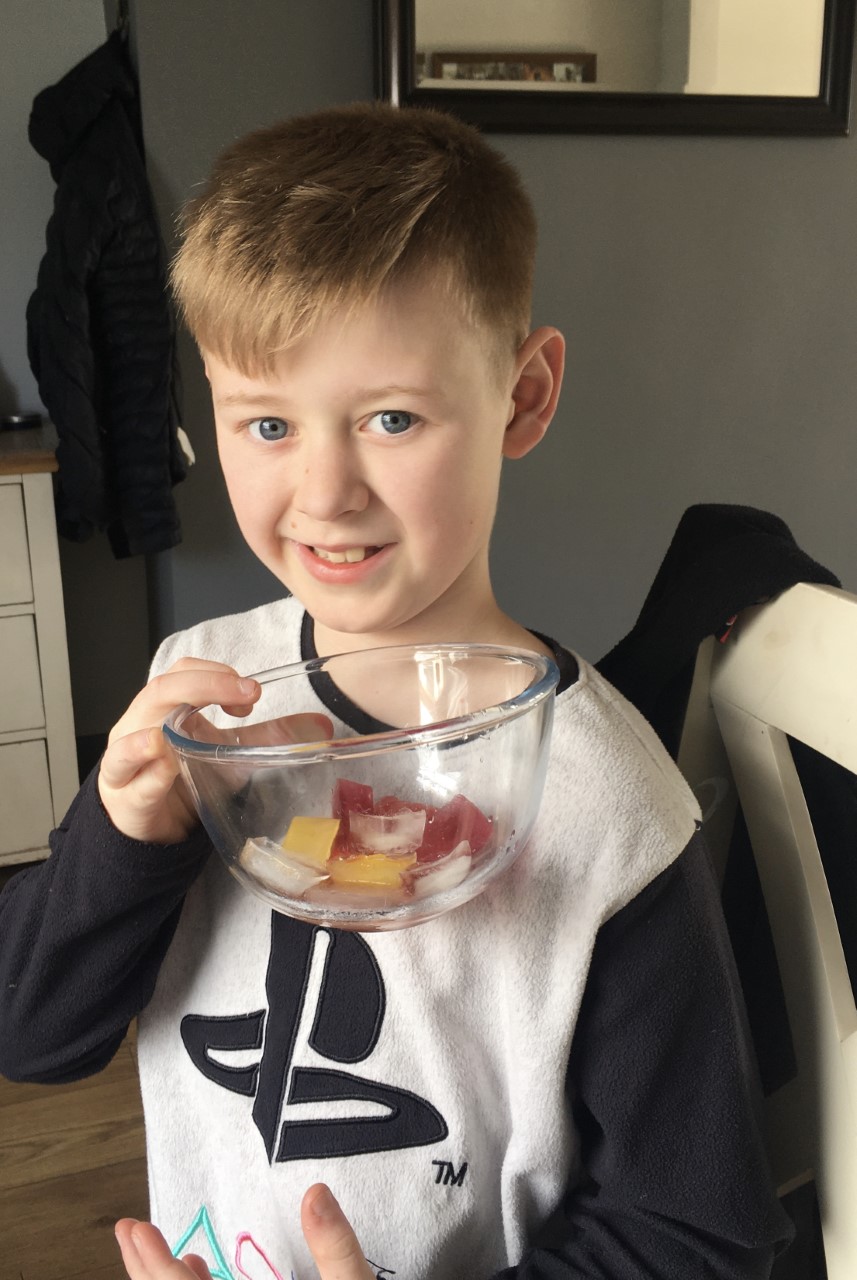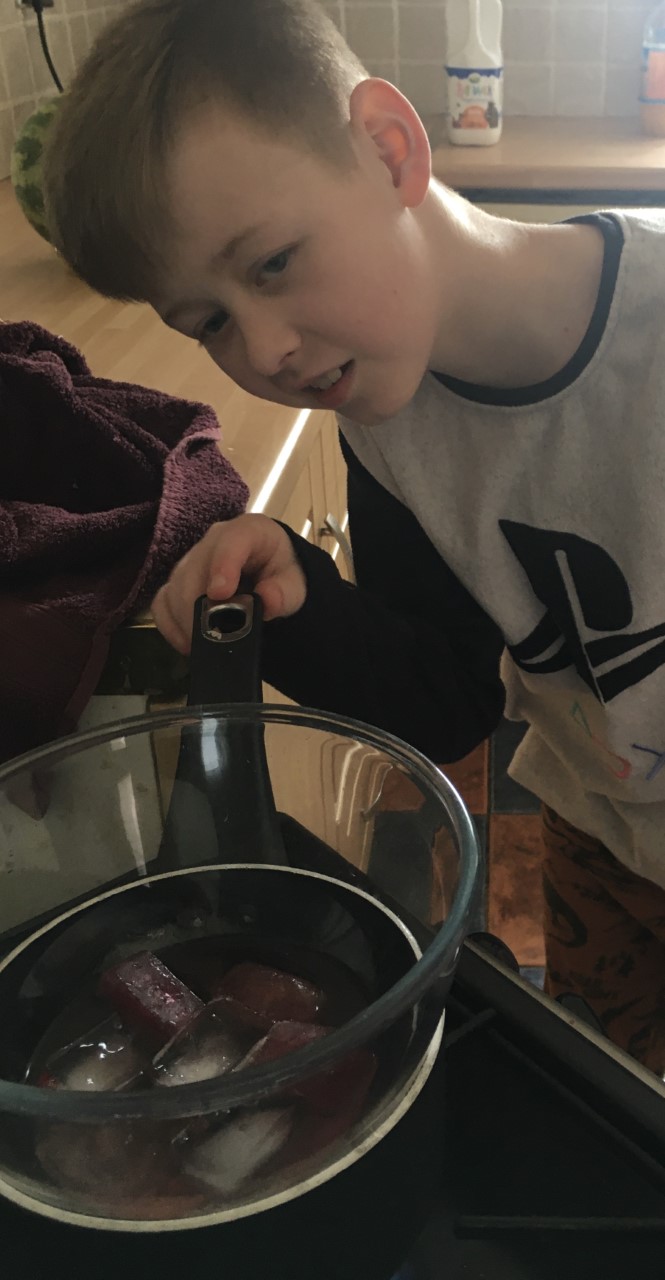 Lewis has been practising one of my other favourite things, super neat handwriting with letterjoin. Well done Lewis!!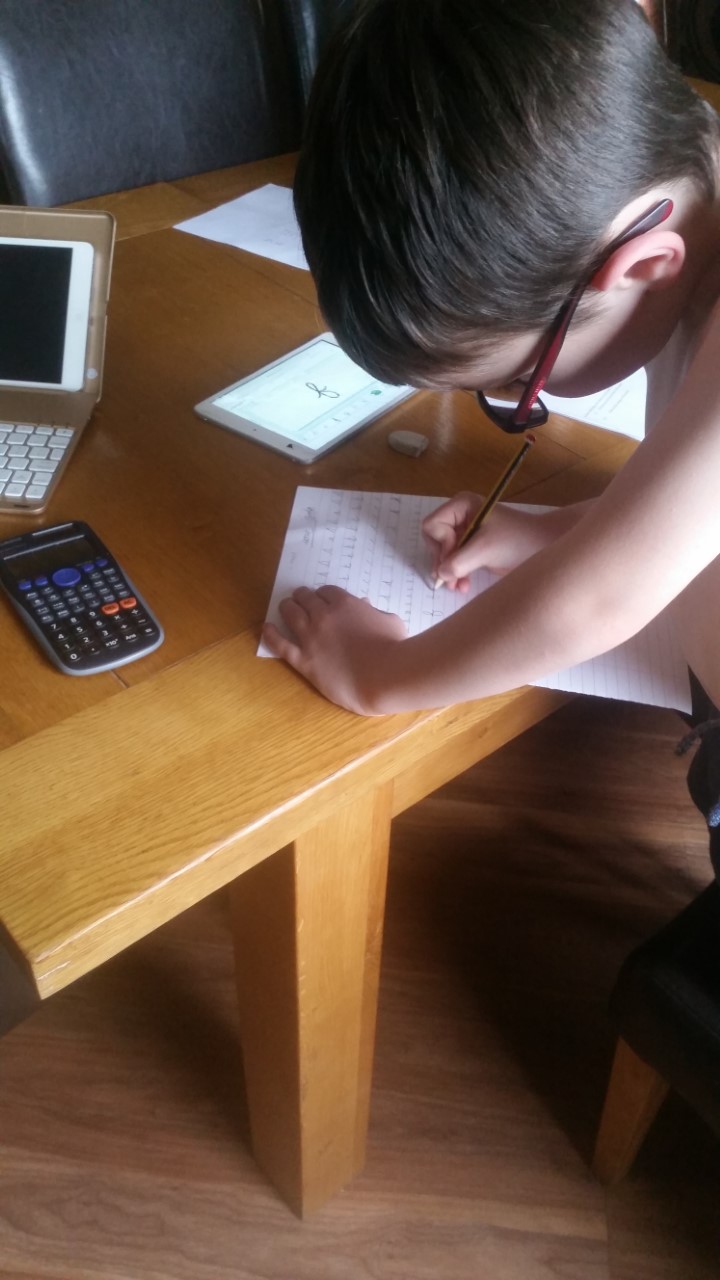 Jack has been following the road safety guidance from earlier in the week and has been out on his bike. Well done Jack!
Look what the Astro-Scientists, Tom and his brothers, with the help of Mum, have made. A fabulous model of the Solar System. A huge well done boys!!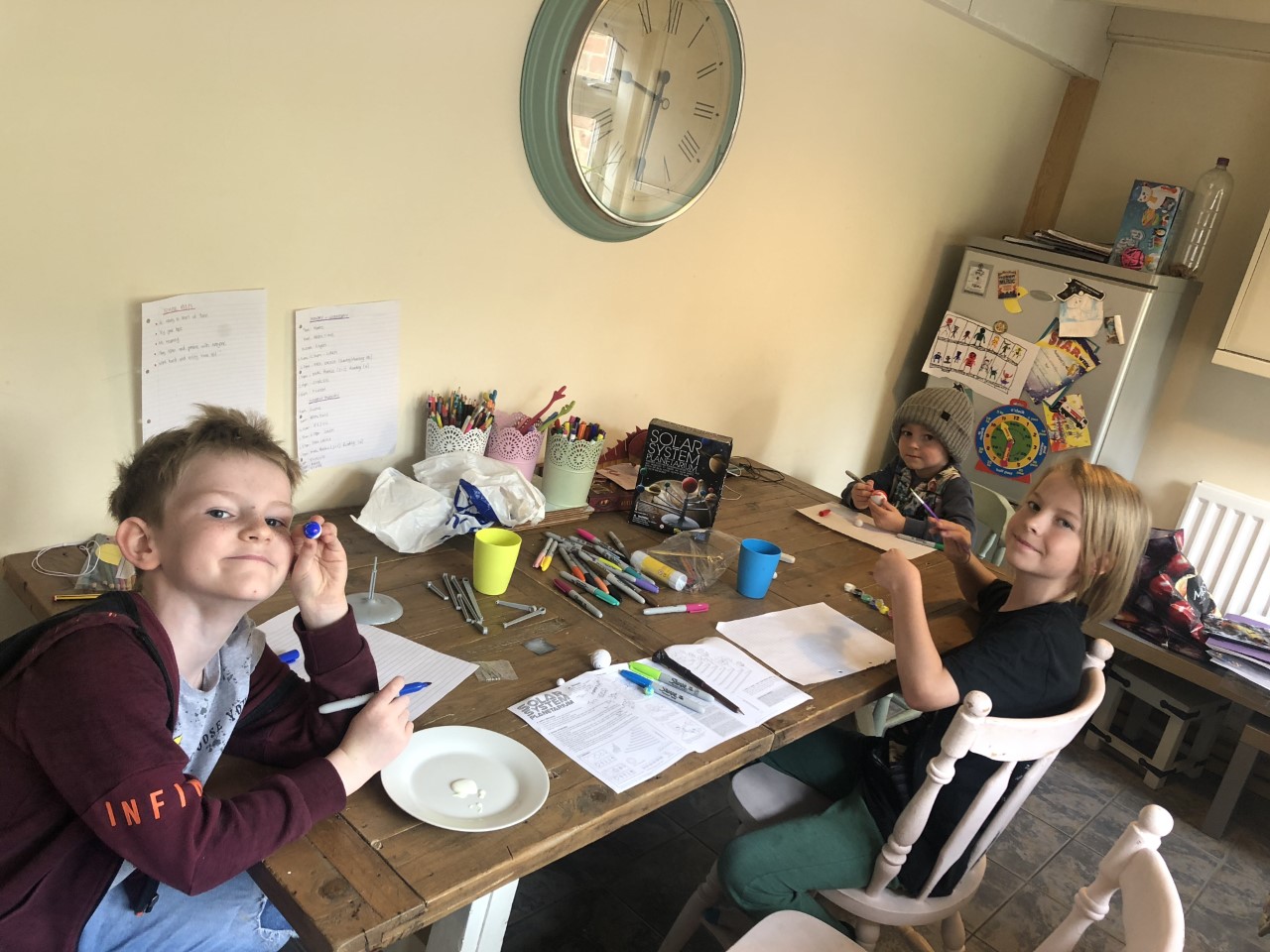 Please do keep sending in your photos children they are a joy to see.
Thank goodness my battery on my laptop has held out (just).
Have a lovely weekend everyone, the weather looks quite nice again so get outside if you can. I'm off to play out for a bit now, until my electric is back on.
Stay safe everyone. I'll be back Monday.
Mrs F.x